What is trending in Sports in May 2023?
Welcome to The Black Mambas of Football and Soccer, where we bring you insightful analysis and commentary on all things related to the beautiful game. Today, we'll be previewing one of the biggest matches of the year - the 2023 Champions League Final between Manchester City and Inter Milan. Make sure to subscribe to our podcast to stay up-to-date on the latest in the world of football and soccer. In today's episode, we'll cover Manchester City and Inter Milan's strengths and weaknesses ahead of their Champions League Final clash, discuss the potential key players to watch out for, and round it up with a quiz on World Cup History.


Hey there, welcome to another exciting episode of 'The Black Mambas of Football and Soccer'. I'm thrilled to be your host today as we gear up for one of the most anticipated events in football - the Champions League Final! Manchester City and Inter Milan are set to face-off in what promises to be a jaw-dropping match, and I can't wait to discuss everything you need to know before the game kicks off.


Before we dive into the strengths and weaknesses of each team, the best odds, and the players to keep an eye on, let's take a quick detour into the history of these two powerhouses in the Champions League.
First up, Manchester City. Despite their dominant performance in domestic leagues, their history in the Champions League is relatively brief. The club made its debut in the competition during the 2011-2012 season and has since become a regular fixture, often making it to the later stages of the tournament. However, their most impressive run was reaching the final in the 2020-2021 season, where they narrowly lost out to Chelsea. This upcoming final against Inter Milan marks their second appearance at this stage and shows just how far they've come in European football.


Now for Inter Milan, a team with a longer and more prestigious history in the Champions League. The Italian giants have made multiple appearances in the competition since it was rebranded from the European Cup in the 1992-1993 season. Their biggest achievement in the tournament came under the leadership of Jose Mourinho in the 2009-2010 season, where they clinched the title and completed a historic treble. This final marks their fourth appearance at the Champions League's climax, signifying their return to the pinnacle of European football following a period of relative absence.


Okay, now that we've covered a bit of history, let's jump back into the upcoming final. It's going to be a nail-biter, and we'll be delving into both teams' tactics and players to watch out for, so make sure to stay tuned!


When it comes to English football, Manchester City is a team to be reckoned with. Their midfield, led by the talented Kevin De Bruyne, is one of the best in the game. But, even with their exceptional skill, they can sometimes struggle with maintaining a strong defense under high pressure.


Inter Milan might just have an advantage in that area. With their impressive defense led by Milan Skriniar and Stefan de Vrij, they've been nearly impenetrable. But, their less consistent midfield might falter against the likes of City's midfield maestros.


The real wildcard in this match, however, is Erling Haaland. This man has been a goal-scoring machine this season and is the recipient of the Best Premier League Player award for the 2022-2023 season. With incredible speed, lethal finishing, and physicality, he is a genuine threat to any defense.
On the other hand, Inter Milan is not short of attacking options, and with Lautaro Martinez, Romelu Lukaku, and Edin Dzeko, they have a commendable line. It'll be interesting to see how the match plays out with these teams' strengths and potential weaknesses.


Hey there, football fans! We have an exciting match on our hands, and the experts are already buzzing with predictions and odds. The bookies seem to favor Manchester City, but as we all know, the beauty of football lies in its unpredictability. So, buckle up and get ready for an exhilarating ride!


If you're looking to place a bet, the best odds might be a draw at full time, which could give you a healthy return. However, if you're playing it safe, a wager on a Manchester City victory is your best bet. But keep in mind that a bet on Inter Milan could potentially turn out to be a gold mine!


Now, let's talk about the players to watch out for. For Manchester City, it's not just Kevin De Bruyne who steals the spotlight. Erling Haaland has been in sensational form all season, thanks to his unstoppable scoring prowess. Meanwhile, for Inter Milan, Lautaro Martinez isn't the only star player. Nicolo Barella's midfield skills could be vital for Inter in controlling the game and securing a win.


This match is going to be an exciting contest between tactical ingenuity of Guardiola and Simone Inzaghi's resilient Inter Milan. So, get ready for a night of spectacular football, and make sure you tune in for our post-match analysis in the next episode of 'The Black Mambas of Football and Soccer'. Remember, football is more than just a game; it's a way of life!


Hey there football fans and World Cup enthusiasts! Raise your hand if you've ever wondered about the history of the World Cup. Or maybe you think you know everything there is to know about the biggest sporting event on the planet? Well, have we got a treat for you! You absolutely cannot miss "World Cup History - World Cup Quiz" by Etienne Noumen.


This gem of a book takes you on a classic journey through the history of the World Cup. Starting from its inception in 1930 all the way up to the present day, you'll be presented with fascinating facts and trivia about the tournament's greatest moments and players. Trust us, by the end, you'll know everything there is to know about this legendary competition.
But wait, there's more! "World Cup History - World Cup Quiz"" also offers up a fun and challenging quiz section. This is where you can put your World Cup knowledge to the test! From easy to difficult, the questions will have you and your friends going head-to-head to see who knows more. Who will come out on top as the ultimate World Cup expert?
Whether you're a die-hard fan or a curious reader, "World Cup History - World Cup Quiz"" has something for you. Order your copy today on Amazon and become a World Cup trivia master!
On today's episode, we covered the Champions League Final match between Manchester City and Inter Milan, discussing Manchester City's strong midfield and Inter Milan's strong defense, along with previewing the top players to watch for each team, and we finished with a fun World Cup history quiz - thanks for listening and don't forget to subscribe!

Top Sports Trends on May 30th, 2023
England is set to debut Tongue in the upcoming Test match against Ireland. This decision introduces new talent into the England squad, raising anticipation for the game.
Daniil Medvedev expresses relief as the clay season ends following his unexpected loss at the French Open. The tennis star is looking forward to better performance in future tournaments.
Wiegman grapples with significant decisions regarding the World Cup squad. These choices will shape the team's strategy and performance in the upcoming global event.
Manchester United's Anthony Martial is set to miss the FA Cup final due to injury. This development poses a challenge for the team as they prepare for the decisive match.
A group has been sentenced for illegally streaming Premier League games, a crime that undermines legal broadcasting rights. This serves as a warning to those engaging in similar activities.
Tennis player Cameron Norrie braces himself for challenging moments in the French Open, amidst the pressure of performing before the Paris crowd. Norrie, however, remains hopeful for a strong performance.
In a humorous turn of events, a fielder loses track of the ball during a game - only to find it beneath himself. This incident adds a touch of levity to the intensity of the game.
Teen tennis sensation Andreeva credits her French Open victory to Andy Murray. This highlights Murray's influence on younger generations in the sport.
Pep Guardiola of Manchester City is named Manager of the Year by the League Managers Association. This accolade affirms Guardiola's impactful leadership in the team's successful season.
French rugby player Mohamed Haouas is sentenced to jail for domestic violence. This case highlights the ongoing issue of domestic violence within the sports community.
Top Sports Trends on May 29th, 2023
Star footballer Kylian Mbappe has finally confirmed where he will be playing in the upcoming season. This announcement ends the rampant speculation about his future club.
As the Champions League Final approaches, experts provide a preview and prediction of the match. The event will be live-streamed, allowing fans worldwide to partake in the excitement.
Manchester United's manager, Ten Hag, has made a call for more investment into the club. This comes as he outlines his vision for the club's future success.
A street soccer female team is making waves in Brazil, changing the face of the sport in the country. Their efforts are challenging traditional norms and promoting greater inclusivity in the sport.
Take a look at the ten most decorated players in football history, tracing their journey to legendary status. These athletes have made significant contributions to the sport, securing a lasting legacy.
In a turn of events in the Premier League, Leicester and Leeds face relegation despite their efforts, while Everton managed to secure their position. This outcome has sparked a range of reactions among fans and analysts alike.
Everton secured their place in the Premier League with a crucial victory over Bournemouth. This win comes as a relief for the club and its supporters, following a season fraught with challenges.
Max Verstappen claimed victory over Fernando Alonso in a Monaco Grand Prix race significantly affected by rain. The challenging weather conditions added an extra layer of complexity to the prestigious race.
Bayern Munich outperformed Borussia Dortmund to clinch the Bundesliga title, showcasing their football prowess. This victory further cements Bayern's reputation as a dominant force in German football.
Following a loss to Motherwell, Dundee United face the prospect of relegation. This marks a disappointing end to the club's season, leaving fans and players alike in a state of dismay.
Leicester have been relegated from the Premier League, despite a win against West Ham. The result demonstrates the harsh realities of league football, where a single victory may not be enough to avoid relegation.
Marta Kostyuk faced a negative crowd reaction after she avoided a post-match handshake with Aryna Sabalenka. The incident has sparked controversy within the tennis community.
Carlisle United have been promoted after a thrilling shootout victory over Stockport County. This win highlights Carlisle's determination and will have a significant impact on their next season.
Lorena Kool claimed victory in the RideLondon Classique, while Lizzie Deignan secured a respectable third-place finish. The race showcased the skills and determination of some of the world's top female cyclists.
Leeds United face relegation from the Premier League following a significant home defeat to Tottenham Hotspur. This loss underscores a challenging season for Leeds, culminating in their relegation.
Top Sports Trends on May 28th, 2023
MILAN (Reuters) -Inter Milan scored twice inside the opening four minutes but had to fight to beat Atalanta 3-2 at home on Saturday, which guaranteed them a top four finish in Serie A.
Dan Evans, the British number one, was ousted from the French Open in the first round. This unexpected early exit has marked a disappointing start to the tournament for Evans.
Max Verstappen is building a strong lead in the Monaco Grand Prix as the threat of rain adds an element of unpredictability to the race. Verstappen's continued dominance puts him in a strong position for the Grand Prix title.
Michael Conlan's bid for a world title was thwarted when Isaac Dogboe stopped him. This marks a significant setback in Conlan's pursuit of a world championship.
Adam Schenk and Harry Hall are level pegging as they head into the final round at Colonial. The duo's neck-and-neck performance promises an exciting finish to the tournament.
Rugby Union World Cup winner, Ben Fleetwood, has announced the end of his playing career. Fleetwood's retirement marks the end of a distinguished career that includes a World Cup victory.
Leigh Wood emerged victorious in his rematch against Mauricio Lara, winning back the WBA belt. The victory sees Wood reclaiming his title in an intense rematch.
Fernando Alonso is focusing on the alleged 'inconsistency' of Max Verstappen at the start of the Monaco Grand Prix. Alonso's strategy could result in a surprising shakeup in the race's leaderboard.
In a thrilling showdown at the Prix Corrida, Nashwa is set to challenge Above The Curve. This competition between the two skilled horses is eagerly anticipated by racing fans.
The Boston Celtics have forced a decisive Game 7 in their playoff series against the Miami Heat, thanks to a buzzer-beating shot by Derrick White. The thrilling win keeps the Celtics' championship hopes alive.
Luton Town Football Club has secured their spot in the top flight after a 31-year absence, following a win on penalties. This marks a significant achievement and a long-awaited return for the club.
Top Sports Trends on May 27th, 2023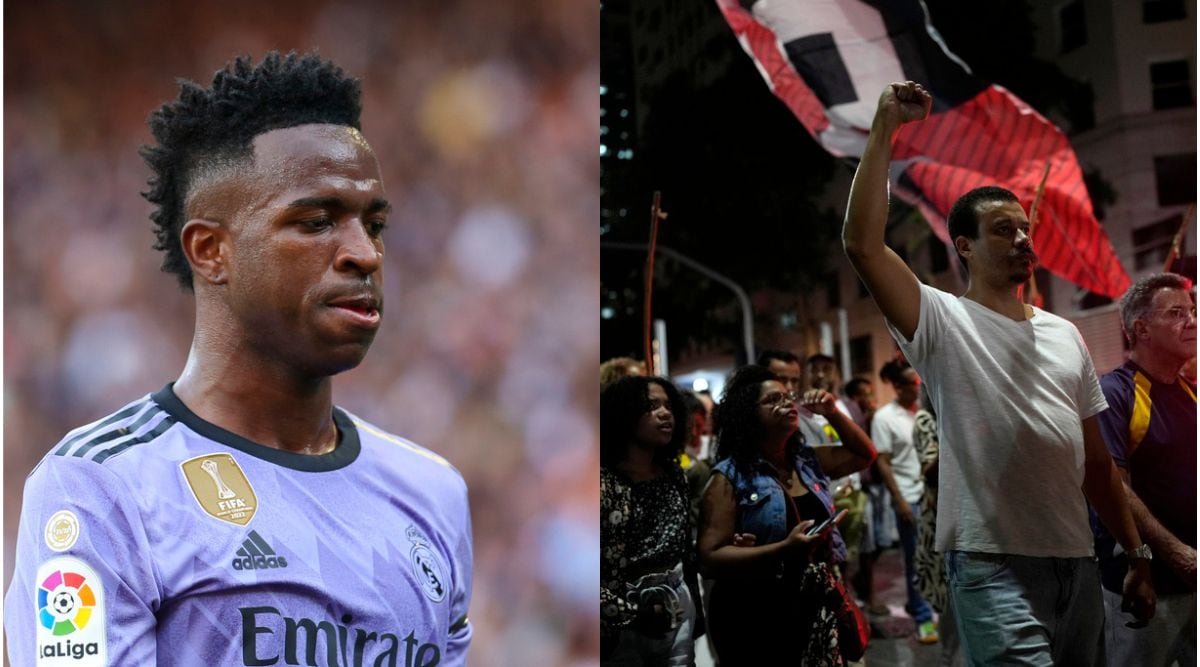 On at least nine occasions, people have made monkey sounds at Vinícius, chanted the slur "monkey!" and hurled other racist slurs.
Celtic Football Club gave a standout performance on the day they received their trophy, showcasing the skill and teamwork that earned them the title. The game highlighted the team's talent and their well-deserved status as champions.
There's a growing argument suggesting Sean Dyche could be the most effective manager in the history of the Premier League. His leadership, strategy, and the performances he has coaxed from his teams are leading many to consider his legacy in the sport.
The much-anticipated Gallagher Premiership final between Saracens and Sale Sharks is underway. Fans and pundits alike are eagerly watching this clash of titans in the rugby world.
The Monaco Grand Prix is expected to see a tight contest for pole position during its crucial qualifying round. The race, one of the most prestigious in the F1 calendar, never fails to bring excitement and suspense.
Alex Hartley, the England international cricketer, has announced an indefinite break from the sport, citing mental health struggles. The decision underscores the pressures faced by athletes and the importance of mental health in sports.
The Women's Super League is set for a thrilling conclusion as Chelsea and Manchester United face off in a final-day title showdown. Both teams have performed exceptionally this season, and this match will determine the league champion.
Max Verstappen has set the fastest time ahead of the Monaco Grand Prix qualifying round, while Lewis Hamilton suffered a crash. The incident adds an additional layer of suspense to what promises to be a thrilling race.
Stevie MacLean, who played a pivotal role in keeping St Johnstone in the Scottish Premiership, has been rewarded with a three-year contract. The deal is a testament to MacLean's impact on the team and their ambitions for the future.
Top Sports Trends on May 25th, 2023



Jude Bellingham is still a doubt for Borussia Dortmund's Bundesliga title decider against Mainz on Sunday, manager Edin Terzic said, meaning the midfielder could miss what is likely to be his last game for the Ruhr valley club.
England's Sullivan is currently three shots off the lead at the Dutch Open, demonstrating a strong performance in the tournament.
In an upcoming Super League match, third-placed Hull KR will be hosting second-placed Wigan. It's set to be a thrilling encounter.
The fight between Spence Jr and Crawford has been confirmed for July in Las Vegas, promising a high-profile boxing showdown.
Tebas, the president of LaLiga, has claimed that he could eradicate racism from the league in six months with new powers. The specifics of these powers and his proposed actions have yet to be detailed.
Chelsea has made three changes to their lineup for the match against Man Utd, including the notable omission of Silva.
Details on the participants of the Men's Draw at the French Open 2022 will need to be checked from a reliable sports news source or the tournament's official site.
Details on the participants of the Women's Draw at the French Open 2022 will need to be checked from a reliable sports news source or the tournament's official site.
Roy has decided to end his deal with the England Cricket Board (ECB) to play in the Major League Cricket, though he maintains that England is still his priority.
The specifics of the "most bizarre putting action in golf" as mentioned in this context are unclear and would require additional details or context from a reliable golf news source.
Speculations around James' next move suggest a few options: staying in Los Angeles, retiring, or potentially returning to Cleveland. Confirmation will likely come from official announcements or reliable sports news sources.
Top Sports Trends on May 23rd, 2023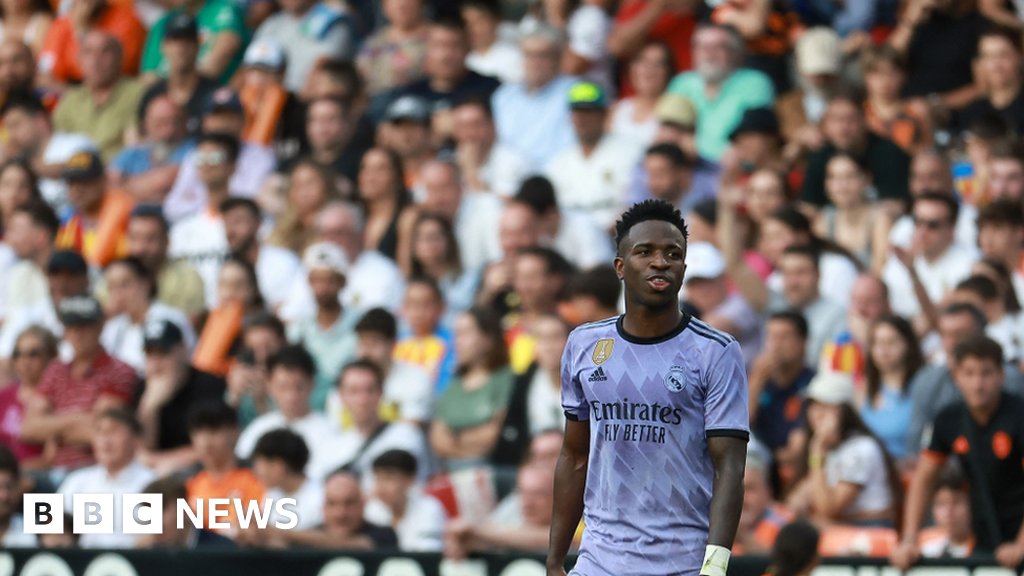 Spanish police have arrested three people in connection with racist abuse of the Real Madrid player.
What are the 10 must-see Royal Ascot match-ups this season?
As the anticipation builds for the prestigious Royal Ascot event, there are 10 key match-ups that have fans eagerly awaiting the races. This year's competitors promise thrilling performance and intense rivalries. For a sneak peek at these anticipated match-ups, visit our coverage here.
Where can you watch Ronaldo in action for Al Nassr against Al Shabab?
You can enjoy a free stream of Ronaldo in action as Al Nassr take on Al Shabab. Witness the football icon demonstrate his skill and prowess on the pitch by streaming the match live here.
Will there be bowler rotation during the Ashes, according to Broad?
Stuart Broad, the prominent England bowler, has hinted at potential rotation among the bowlers during the upcoming Ashes. For a full breakdown of Broad's expectations and strategies for this major cricket event, check out our report here.
Does Koepka deserve a Ryder Cup call after his PGA Championship win?
With his victory at the PGA Championship, Koepka has proved to many that he is among the best of his generation. This performance has sparked debates about whether he should receive a Ryder Cup call. Discover more about Koepka's prospects and the opinions of experts here.
Could White and Trent receive England recalls in a larger Southgate squad?
There is a possibility that White and Trent could receive recalls to the England team, especially considering coach Gareth Southgate's intent to expand his squad. For more details on this development, read our coverage here.
Who won the top Scottish season awards?
Kyogo and Postecoglou have been honored with the top Scottish season awards, recognizing their exceptional performances and contributions to the game. Find out more about their achievements and the significance of these awards here.
Did Ekeler receive a bonus following a trade request?
Austin Ekeler, the highly regarded running back, received $1.75 million in incentives after his trade request. To learn more about Ekeler's situation and the implications of this move, check out our article here.
Is there a possibility of Hamilton joining Ferrari according to the Sky Sports F1 Podcast?
The Sky Sports F1 Podcast recently discussed the possibility of Lewis Hamilton joining Ferrari, despite what is considered a 'low-ball offer'. For the full discussion and analysis of this possibility, tune in here.
What does McLaren's Triple Crown livery for Monaco and Barcelona look like?
McLaren has revealed a new Triple Crown livery for the Monaco and Barcelona races, adding a fresh aesthetic to their high-performance vehicles. You can catch a glimpse of this stunning new livery here.
Is Cameron open to a rematch with Taylor?
Cameron has expressed openness to a rematch with Taylor, boldly stating 'I'm her worst nightmare'. For more on this brewing rivalry and potential rematch, read our detailed report here.
Top Sports Trends on May 22nd, 2023
Newcastle United's journey to the Champions League has been a dream come true for fans and players alike. Their rise to this level of competition marks a significant milestone in the club's history and indicates exciting times ahead.
Micah Richards has expressed his deep frustration at comments made by Javier Tebas. Richards believes that Tebas's statements are not conducive to fostering a positive sporting environment, thus sparking controversy and discussion in the football community.
Brooks Koepka's victory at the US PGA Championship has brought up some interesting questions regarding the upcoming Ryder Cup. With his proven ability to perform under pressure, selectors might be facing a difficult decision.
The issue of gambling continues to be a contentious issue in elite sports. This article explores how the culture of risk-taking inherent in sports can sometimes translate into problematic gambling habits, highlighting the need for education and resources to help athletes.
As the season comes to a close, Leicester City's hopes hang in the balance. With tensions running high, they need a standout performance on the final day to secure their desired position.
Mark Cavendish, a well-respected figure in professional cycling, has announced that he will retire at the end of this season. His career has been marked by significant achievements, and his retirement marks the end of an era.
In a spectacular display of skill, Ladd has secured her spot in the WSL's best goals with a stunning long-range strike. This goal is a testament to her talent and the excitement of the Women's Super League.
Garth Crooks's Team of the Week is a much-anticipated event in the football world. In the latest edition, he compares a current player's form to that of Glenn Hoddle in his prime, sparking lively debates among fans and pundits alike.
Tiger Woods, the acclaimed professional golfer, has chosen to miss the US Open in order to focus on his recovery. This decision underscores Woods's commitment to his health and long-term career longevity.
Cyclist Mark Cavendish has announced his intention to retire at the end of the current season, signaling the end of a truly remarkable career.
Reactions have been pouring in following Manchester City's title win. Stay tuned for the latest updates and news from the world of football.
Two decades on, we delve into the journey that shaped Anderson for greatness, marking his indelible impact in the sport.
Vinicius Junior has sparked a conversation about racism in football, claiming that 'La Liga belongs to racists' after an incident during a recent match.
With Manchester City eyeing a treble, manager Pep Guardiola is being hailed as 'the difference maker' leading the team's charge.
Golfer Brooks Koepka has secured his fifth major title with a victory at the US PGA Championship, enhancing his status as one of the top players in the sport.
Erling Haaland's outstanding performance was instrumental in helping Manchester City clinch the title, showcasing his significant contributions on the pitch.
Souness has shared an emotional account of his charity swim across the English Channel, reflecting his commitment to contributing to a meaningful cause.
Hayes has emphasized the importance of life outside of football, asserting that personal and professional lives carry equal weight.
Despite a 'special night' of victories, Manchester United is acknowledged to need a 'miracle' in order to clinch the title this season.
Top Sports Trends on May 21st, 2023
Pep Guardiola, with his unmatched strategic prowess, stands as the linchpin for Manchester City's ambitious pursuit of the treble this season.
Brooks Koepka secures his fifth major title with a stunning victory at the US PGA Championship, cementing his reputation as one of the premier golfers of his generation.
The possibility of a crushing relegation looms large over Leeds United, a scenario that the club acknowledges would present significant challenges.
Real Madrid's Vinicius Jr. condemns racism following an incident during a match against Valencia, igniting broader discussions about discrimination in La Liga.
La liga is a disgrace. All black players should leave that racist league. What a shame. #LaligaDisgrace #RacistLaLiga
Erling Haaland's stellar performance played a pivotal role in Manchester City's title victory, once again demonstrating his incredible talent on the football pitch.
Despite a memorable evening of football, Manchester United acknowledges that a significant turn of events would be required for them to clinch the title this season.
Tennis star Andy Murray has withdrawn from the French Open, a decision that has undoubtedly disappointed his fans and impacted the tournament's lineup.
Glasgow City clinched the title thanks to a dramatic last-minute goal, underscoring the team's resilience and determination.
With a swift treble, Hull FC overcomes Castleford Tigers to secure their spot in the quarterfinals, highlighting the team's dynamic performance.
Manchester City's manager, Pep Guardiola, describes the achievement of clinching a third consecutive title as 'extraordinary', reflecting on the team's exceptional consistency and high standards.
Top Sports Trends on May 20th, 2023
Manchester City's dominance in football has been labelled as an 'unstoppable juggernaut.' Their consistent high performance has left many questioning when and where this powerful run will come to an end.
In the US PGA, Koepka is leading the game with Rose and McIlroy close behind. It's an intense competition as all three strive for the championship title.
Cameron succeeded in ending Taylor's unbeaten record, thus retaining her titles. The match marks a significant moment in Cameron's career and a turning point for Taylor.
The Manchester City players are celebrating their third consecutive title win, showcasing their unrelenting dominance in the sport. This achievement marks yet another milestone in their successful journey.
After losing a title they seemed likely to win, Arsenal is now in a phase of recovery. The club and its supporters must now focus on healing and learning from this experience.
As Firmino bids farewell to Liverpool, it's seen as an opportunity for the Reds to 'rebuild'. His departure signifies the end of an era and the beginning of a new chapter for the team.
Manchester City is just two games away from achieving 'immortality' in football. A win in these upcoming matches would cement their place in the annals of the sport's history.
In a thrilling match, La Rochelle's comeback stunned Leinster. This exciting game showcased the unpredictability and high stakes nature of the sport.
Guardiola has been credited with 'reinventing the game' due to his management of a 'relentless' Manchester City. His innovative strategies have left a lasting impact on the sport.
Observers are calling this the decisive day in the WSL title race. The results from the games played today will have significant implications for the championship standings.
Top Sports Trends on May 19th, 2023
In a surprising turn of events, Manchester United has emerged as a potential new home for Liverpool's Sadio Mane. This would be a notable transfer, given the player's exceptional performance and the rival status of the clubs.
Maurico Pochettino is set to make a comeback in football management with his new role at Old Trafford. Pochettino's return to management, especially at such a prestigious club, signals a significant shift in the team's strategic direction.
In an impressive comeback, Sevilla managed to outdo Juventus, securing their spot in the Europa League final. The match was a testament to Sevilla's resilience and competitive spirit.
Jose Mourinho, despite leading Roma to the Europa League final, insists that he isn't focused on his legacy. This demonstrates Mourinho's commitment to the team and the game rather than personal glory.
Bryson DeChambeau, the golf star, set the clubhouse lead at the US PGA amidst frosty weather conditions. This shows DeChambeau's adaptability and competitive spirit, even under less than ideal conditions.
West Ham players intervened when AZ fans launched an attack on the family section during a recent match. The event stirred debate around the security and protection of fans during games.
Katie Taylor, the Irish professional boxer, prepared for what she described as the 'greatest night' of her career, showcasing her readiness and ambition.
Brentford's manager, Frank, stated that despite Ivan Toney's ban, his future remains with the club. This signals the club's confidence and support in the player during a challenging time.
Rafael Nadal's absence from the French Open is a significant event that is difficult for many to comprehend due to his consistent performances in past tournaments.
Top Sports Trends on May 17th, 2023
Manchester City star, Jack Grealish, declared that his team feels 'unstoppable', a sentiment not echoed by his coach, Pep Guardiola, who showed discomfort with such a statement. This captures the difference in perspectives within the team regarding their form.
In the latest Champions League fixtures, Manchester City players Jack Grealish and Kyle Walker stood out with impressive performances. Meanwhile, Inter Milan's form sparks questions on how they can improve.
Chelsea delivered a stunning performance to beat West Ham, drawing closer to the league title. Coach Emma Hayes stated that goal difference could be a decisive factor in the title race.
In the face-off between Manchester City and Real Madrid, Bernardo Silva emerged as a standout player, while Real Madrid appeared to wilt under pressure. The player ratings reflect the overall team performances and individual brilliance.
Manchester City triumphed over Real Madrid in a decisive victory, securing their place in the Champions League final. This result marks a significant achievement for the English club.
The Play-Offs present a tough decision, with both Clayton and Aspinall being potential contenders. Similarly, Price and Smith are both strong candidates for the top spot, highlighting the intense competition.
In a thrilling match, Coventry City overcame Boro to secure a place in the play-off final. The victory represents a significant step towards promotion for the team.
Brentford's Ivan Toney has received an eight-month ban from football for breaching the FA's betting rules. The decision reflects the governing body's strict stance on betting-related misconduct.
Tennis star Andy Murray faced a significant loss against Stan Wawrinka at the Challenger event in Bordeaux. This defeat marks another challenging moment in Murray's ongoing comeback journey.
Sky Sports broadcasts the much-anticipated match between Stockport and Salford, allowing fans to watch the exciting clash live. The broadcast forms part of Sky's comprehensive coverage of the football season.
Top Sports Trends on May 16th, 2023
Inter reach first Champions League final since 2010
Treble-chasing Manchester City may be on a quest for their first Champions League title but manager Pep Guardiola said claiming the trophy will not define his team's legacy or his own.
Arsenal striker Folarin Balogun has declared for the US Men's National Soccer team. The US-born Balogun has been an English citizen since he was two years old.
Jofra Archer, England's premier fast bowler, will be out for the summer due to injury complications while Jonny Bairstow has been recalled to the squad. This development has caused a shift in the team's dynamic, and will be a test of their adaptability and resilience.
Novak Djokovic showcased his superiority in the world of tennis as he defeated Cameron Norrie in a match marked by tense moments. Despite the challenging atmosphere, Djokovic managed to maintain his composure and secure victory.
In a candid talk, an athlete shares his experiences with law enforcement and offers advice on handling such encounters. The message underscores the need for respectful communication in order to deescalate potentially tense situations.
A concerning trend of disrespect towards referees in football has been identified, leading to calls for better conduct. The need for respect in the sport, both on and off the field, has been emphasised as critical for its integrity.
In an inspiring comeback, coxswain Kennedy returns to rowing after a challenging battle with breast cancer and undergoing 15 rounds of chemotherapy. Her resilience and determination serve as a beacon of hope and inspiration to many.
Pep Guardiola, renowned football manager, reflects on his exceptional career and the legacy he's built in the sport. His innovative strategies and leadership have significantly shaped the world of football.
Tune in to the thrilling Indian Premier League (IPL) match between the Lucknow Super Giants and Mumbai Indians. This highly anticipated game promises excitement and high-level cricket from some of the sport's best players.
Former UFC champion Francis Ngannou makes a significant career move by signing a deal with Professional Fighters League (PFL). This shift signifies a new chapter in Ngannou's already illustrious mixed martial arts career.
Kyle Walker, the Manchester City defender, humorously describes a moment in a game when Real Madrid's Vinicius Jr tried to perform a rainbow flick over him. The incident has since become a light-hearted talking point in football circles.
West Ham has made it clear that they will not entertain any discussions about Declan Rice's future until the end of the season. This decision underscores their commitment to maintaining focus on their current campaign and avoiding distractions.
Top Sports Trends on May 14th, 2023
Manchester City manager Pep Guardiola expresses confidence in Erling Haaland's ability to perform in their upcoming match against Real Madrid. Read more.
A Leeds United fan has been charged with assault after pushing Newcastle United manager Eddie Howe during a match. Read more.
Learn about Samuel Dabo, a 24-year-old Ghanaian footballer who is a fan of Real Madrid and Cristiano Ronaldo, and is making a name for himself in Ghana. Following the Real Madrid vs Manchester City first leg on Tuesday, Samuel Dabo spoke to the MARCA microphones and immediately went viral. His passionate analysis of the gameRead more.
Chelsea Football Club has reached an agreement for Mauricio Pochettino to become their new manager. Read more.
An article celebrating the career of Barcelona midfielder Sergio Busquets and his often overlooked contributions to the team's success. Read more.
Paris Saint-Germain is nearing the Ligue 1 title as AC Ajaccio suffers relegation. Read more.
Tyrrell Hatton delivers a strong performance in the third round at the AT&T Byron Nelson golf tournament, putting him in contention for the title. Check the leaderboard for the latest updates.
Defending champion Jeongeun Lee maintains her lead at the Cognizant Founders Cup with a three-shot advantage going into the final round. Follow the leaderboard for more information.
Janibek Alimkhanuly successfully retains his title by defeating Rob Brant, and subsequently calls out boxing superstar Canelo Alvarez for a potential fight. Read more about the match and the callout.
ParisLongchamp is set for an epic Sunday with dual French Guineas action, featuring some of the best thoroughbreds in European horse racing. Find out more about the races and contenders.
Dustin Johnson takes a two-shot lead into the final round of the LIV Golf Invitational in Tulsa. Follow the leaderboard for updates on the tournament.
Liverpool is reportedly close to signing Brighton midfielder Alexis Mac Allister for a £70 million fee. Read more about the potential transfer.
West Ham United is keen on retaining David Moyes as their manager for the next season, as they continue their impressive campaign under his guidance. Learn more about the club's intentions.
Salford City secures a deserved first-leg win against Stockport County, thanks to a header from Tom Elliott. Find out more about the match.
A last-minute drop-goal by Jack Crowley helps Munster defeat Leinster in the United Rugby Championship (URC) semi-final match in Dublin. Read more about the thrilling match.
Warwickshire secures a victory against Essex in the County Championship, maintaining their position as pace-setters in the competition. England's James Anderson is absent from the match once again. Find out more about the game and Anderson's absence.
Top Sports Trends on May 11th, 2023
Borussia Dortmund is focused on their own game ahead of their test against Gladbach according to coach Terzic.
Stormzy has been announced as England's Soccer Aid manager and has immediately issued a demand for his team.
Kanye West was awkwardly ignored by Kim Kardashian and son Saint at a soccer game days after crashing his son's basketball game.
Florian Wirtz is a 'gift' to Xabi Alonso and Bayer Leverkusen's creative force according to Bundesliga's 50 to watch.
Premier League survival with Leicester would be Vardy's 'biggest achievement' according to Republic World.
Inter started fast to take control of the semi-final derby according to Republic World.
Watford has named Ismael as their new manager according to BBC Sport.
Lopetegui demands meeting with Wolves chairman to address summer rebuild according to Republic World.
Get all the latest football news, scores, results, rumours, fixtures and live action from the Premier League and around the world with BBC Sport.
Jonny Bairstow is out for 27 as Yorkshire reach 70-2 in reply to Hampshire's 143 all out on day one of their County Championship match.
Ronnie O'Sullivan says he lost seven years of his career to drink and drugs but is now "in a good place" after winning his seventh world title.
Brentford's rise to the Premier League has been built on a Moneyball-style approach that has seen them punch above their weight - and they are now threatening West Ham's European dream.
The Madrid Open apologises for its "unacceptable" decision to cut short a speech by Spanish player Paula Badosa after she spoke in Catalan.
Inter Milan's failure to qualify for next season's Champions League was "worse than AC Milan's wildest dreams", says former Rossoneri striker Antonio Cassano.
Andy Murray argues with an umpire over a line call during his Madrid Open second-round win over Spain's Alejandro Davidovich Fokina.
Listen to live commentary of Kolkata Knight Riders v Rajasthan Royals in the Indian Premier League.
Scrum-half Ben Youngs says Richard Wigglesworth has been "massive" for Leicester as they prepare for their Premiership semi-final against Bristol Bears.
Jude Bellingham is "worth £130m" according to Borussia Dortmund sporting director Michael Zorc, who explains why he rates the England midfielder so highly.
Top Sports Trends on May 10th, 2023
Inter Milan secured a 1-0 victory over AC Milan in the first leg of their Coppa Italia semi-final tie. The win gives Inter a crucial advantage as they head into the second leg. Learn more
Kaden Groves won stage two of the Tour de Romandie, while Mark Cavendish crashed over the finish line after a chaotic day that saw a dog on the racecourse. Learn more
Chelsea defeated Leicester City 6-0 to move within a point of the top spot in the Premier League. The victory also boosted their goal difference, which could be crucial in the title race. Learn more
Andy Murray's impressive run on clay was halted by Fabio Fognini in the second round of the Italian Open. The British star's comeback on clay was stopped with a straight-sets defeat. Learn more
Former NFL player Henry Ruggs III is facing a potential prison sentence after being found guilty of driving under the influence, resulting in a fatal car crash. Learn more
West Ham United manager David Moyes has promised to perform a 'dad dance' if his team reaches the Europa League final. The Hammers are set to face Lyon in the semi-final. Learn more
Renowned athletics coach Rana Reider has been given probation following an investigation into misconduct allegations. Learn more